Andy French rejoins the group but swaps bass for guitar
'Twas the year when Sammy Hagar joined Van Halen. Nevertheless, Golgotha steamed ahead. Manager Lee Mather coupled a poly-gig-stick of live performances encompassing Wolverhampton, Cardiff, Tamworth and Los Angeles. By this time, Karl had gone all folksy, hence the band's output veered towards quasi-classical Jethro Tull, which was a bit tricksy, but drummer Dave managed the peculiar time signatures that just necessitated themselves.
Such songs as 1643 and other stuff came about, variously perplexing the audience. One day, this material might make the market. Best left unsaid.
1986 turned out to be an interesting year for Golgotha. The band took a hiatus to recover from the rigours of touring and it was during this time that Andy French reappeared on the scene, this time clutching his shiny Gibson Les Paul Custom rather than a bass.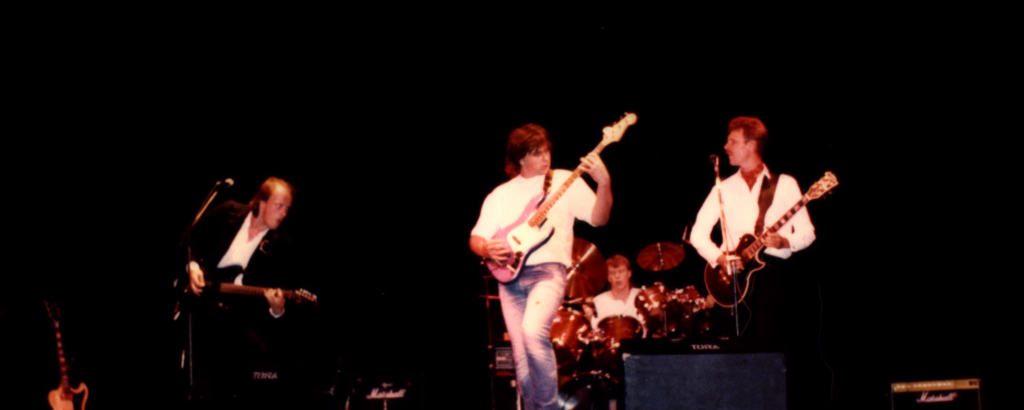 An interest in acoustic material also emerged resulting in an experimental phase playing purely acoustic material under the name Amadeus. Karl and Andy were joined in these acoustic musings by Richard Musgrave, a drummer with more of a pop background.
It soon became apparent that playing some of the old Golgotha material as a 4-piece offered a number of advantages so the band reformed with Richard on the drums and Andy providing an additional guitar. Karl continued to front the band with Jonah taking up his familiar role on bass.
With two guitars Golgotha was finally able to perform the harmonised guitar parts heard on Golgotha recordings. Although successful as a live act, 4-piece Golgotha was relatively short-lived as Andy moved on to art college to undertake a degree in Fine Art. Richard and Jonah went on to perform with other bands and Karl to pursue a solo career resulting in the release of 2 albums with Communiqué Records.