Golgotha's second drummer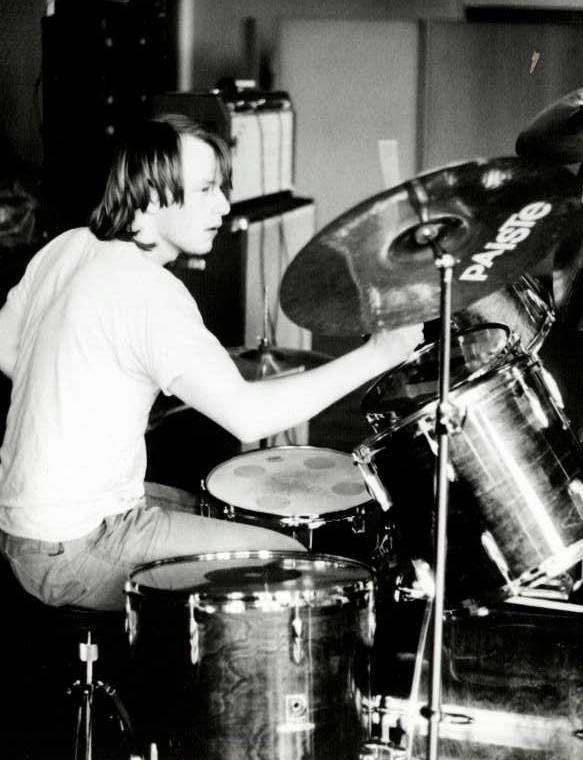 Golgotha's second drummer, Richard Musgrave is an instrumentalist, singer, writer, poet and painter.
He has written and performed with such diverse acts as The Godfathers, Marillion, Eurythmics, Crowded House, Quireboys, Ruby Turner, Godfathers & Wilko Johnson amongst others.
Richard began playing drums in the early 80's with a variety of Progressive/Rock Bands such as Golgotha (this one) and Presence (not that one).
From 1986 to 1989 Richard played drums for The Weather Box, a Stafford based band formed out of the wreckage of Golgotha's 'Pop' contemporaries, Tora Tora – "Of all those early bands – the bands I played drums for – The Weather Box was easily my favourite, the most 'me' and the one I'm proudest of" he says.
More influenced by Jazz and Pop than Rock his favourite drummers were (and still are) Tony Williams and Paul Hester but unimpressed by both the writing and performing skills of some of front-persons he had to sit behind night after night he ventured out from behind the drums to sing and play guitar in the late 1980's.
He began writing "seriously" in 1990 with formation of The Bewlay Brothers ("The most fun you can have with two guitars with your clothes on" – Time Out) with his old friend from The Quireboys, Tim 'Bewlay' Wardle. Based now in London, The Bewlay Brothers recorded one album ("All Good Things"), made a variety of radio appearances and played regularly at The Mean Fiddler and Weavers venues.
Of that time Richard comments "Working closely in partnership with Tim reinforced my belief that co-operation, real close communication with another writer can produce something far more interesting than either one individual could have managed alone – unless of course one is a genius which I am not".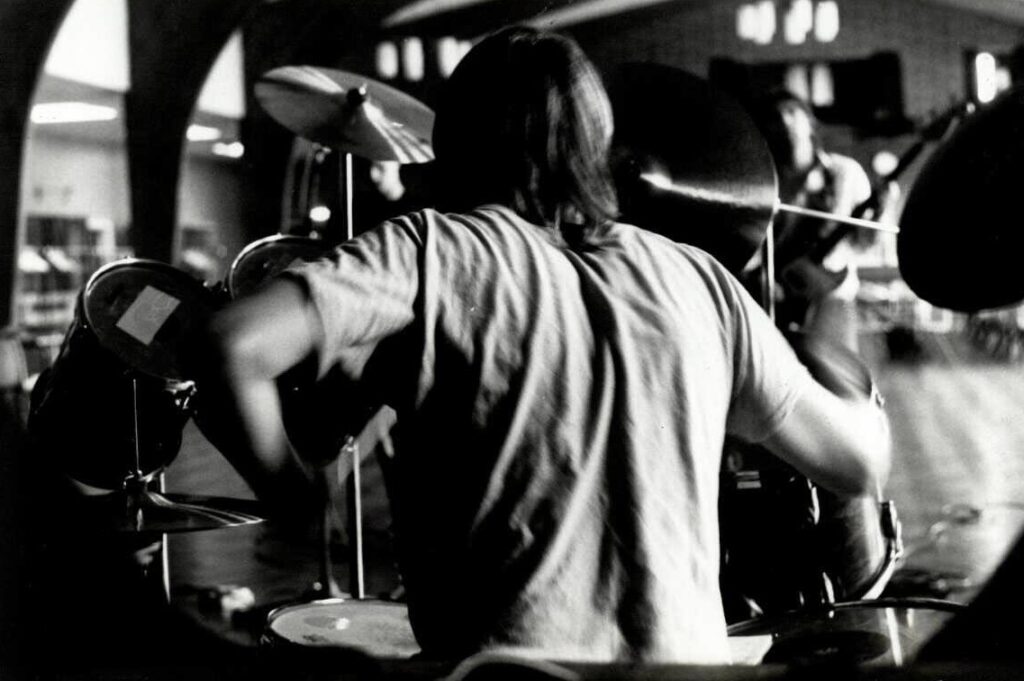 When the Bewlay Brothers folded in the mid-nineties Tim formed Dog Kennel Hill with fellow ex-Quireboy Guy Bailey. Their two albums to date Sweethearts of the Rodeo and All the King's Horses both contain writing contributions by Richard.
About to become a father, Richard returned from London in 1996 and 'retired' from full-time music but in 1999 formed Queensville Wakes, described by The Birmingham Post as "Like an American XTC crossed with an English Steely Dan, if you can imagine such a thing" with Phil Coates (brother of Stephen 'The Real Tuesday Weld' Coates). Despite working only part-time on the project, they secured a publishing deal and have thus far recorded four albums of original songs including Love's Roundabout written by Richard for Kirsty Macoll.
From 1999 to 2007 Richard also fronted the The Red Room, a 'tongue-in-cheek' rock band. After a gig at Birmingham NIA with Midge Ure, Richard was described by Birmingham Evening Mail as "…prancing about the stage like the William Shatner of Rock". This remains his favourite review of all time.
Of Golgotha Richard says: "It was a unique situation. I've never worked in a band like it before or since. Most bands are like gangs. Golgotha was more like an army. I think we all tried very hard to get across what Karl had in his head the best we could but going solo, doing it all himself, I think it was inevitable. To be honest I prefer the Golgotha demo tape After The Curfew to anything else. I especially liked 'Moondog' which still has an appealing 'cronkiness' to it.
Looking back I think it is easy to see that I was not the right man for the job. I'm not a very good technician; I'm an ideas man. Plus I found the whole 'Black', 'Rock', 'Metal' thing very uncomfortable – I mean, I was into The Smiths and Echo and The Bunnymen at the time! Despite all of that I stuck at it because I liked Karl, Frenchy and Jonah personally so I guess although I wasn't crazy about some of the music, socially I enjoyed it."
Currently working with a new live band "Better Than Dust" and still recording with Queensville Wakes, Richard teaches at a High School in Stafford and eats a lot of Wine Gums.